The best Online learning is planned. The problem for many of us right now, is that we don't have the time to plan for it.
Online learning experiences are developed and designed with the same care and time that we have put into crafting our in-person learning experiences over the years. Online learning is a lot of work, but it can support our learners in many of the same ways that our in-person experiences do.
Our move into emergency remote teaching and concurrent/hybrid environments has it's challenges:
Online education, including online teaching and learning, has been studied for decades. Numerous research studies, theories, models, standards, and evaluation criteria focus on quality online learning, online teaching, and online course design. What we know from research is that effective online learning results from careful instructional design and planning, using a systematic model for design and development.7 The design process and the careful consideration of different design decisions have an impact on the quality of the instruction. And it is this careful design process that will be absent in most cases in these emergency shifts.
Now, as we look forward to a new season of remote learning, we face the uncertainty of what school will look like, but we know there will be a need for online learning for some (if not all) students, and some (if not all) of the school year.
That is why this course exists.
During the last few months I've done more reading, researching, and creating on remote, distance, and online learning than ever before. I've worked with a dozen schools and districts on the current situation and planning for what comes next. Our community has put on webinars, summits, and online events meant to support the work teachers, school leaders, and parents are doing around the world.
Through all of this I've been developing this course. One that I started to create during my Master's Degree program in Global and International Education at Drexel University, and that I've continued to refine while teaching online courses for the Penn Literacy Network at UPenn Graduate School of Education.
This work of moving towards adaptable instruction and assessment has always been important, but now it is imperative.
The Online Learning Master Course focuses on how to prepare for flexible learning environments (in-person, hybrid/concurrent/parallel, and online) that call for adaptable instruction and assessment.
Together we'll walk through the research and practices that may never replace face-to-face instruction, but can provide an engaging and empowering learning experience for our learners.
The Online Learning Master Course Has Everything You Need to Plan and Develop Flexible and Adaptable Learning Experiences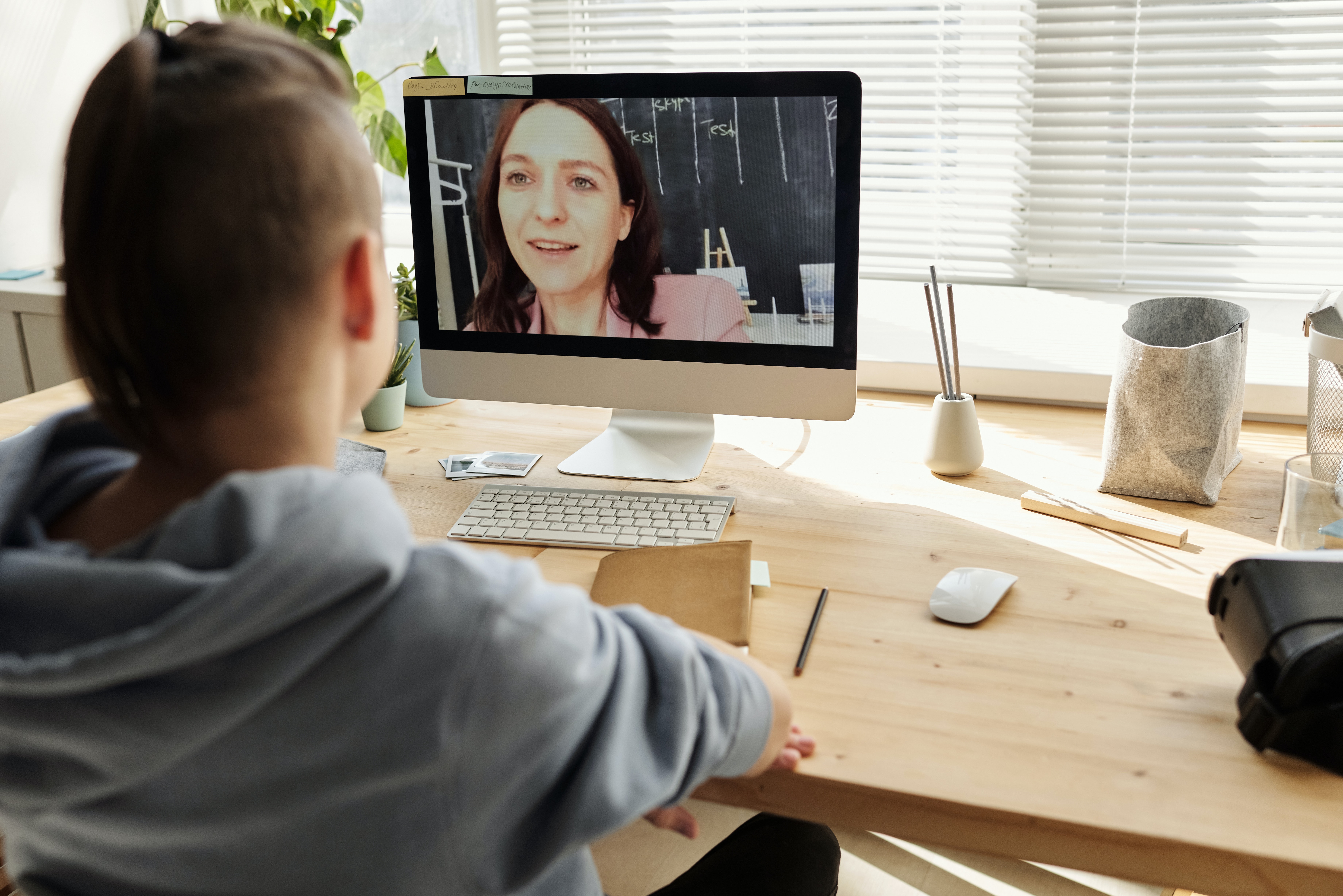 Self-Paced Modules with Videos, Audio, and PDF Guides (also now in Spanish)
Our self-paced modules are fully developed. Each has a video (full transcript and Spanish version available), reflection questions, resources, and downloads.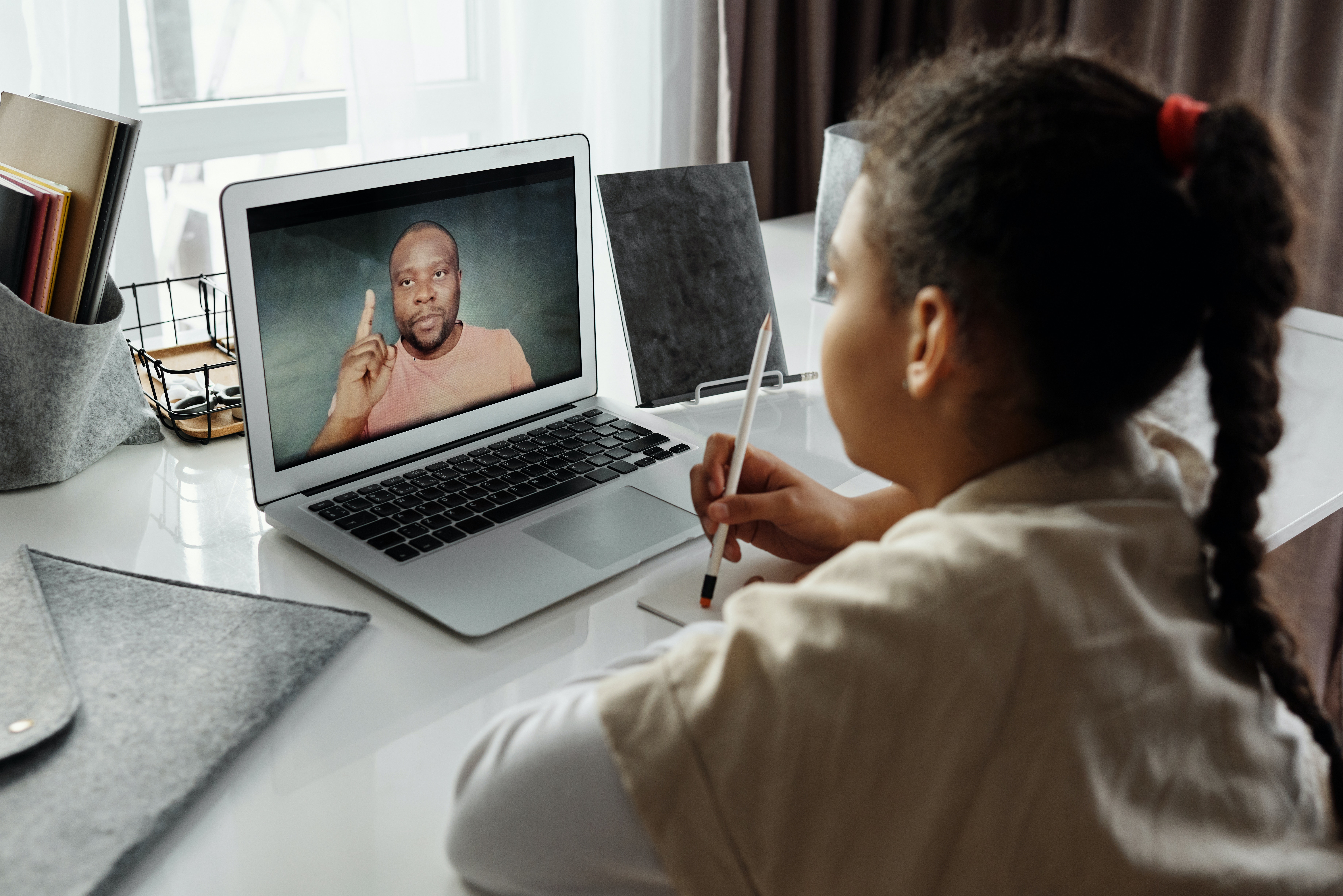 Practical Resources You Can Use with Learners Right Away
Over 2100 educators have taken this course over the past few months. We've had 65 schools put their entire staff through the course. That's why we've created ready to use resources in each module.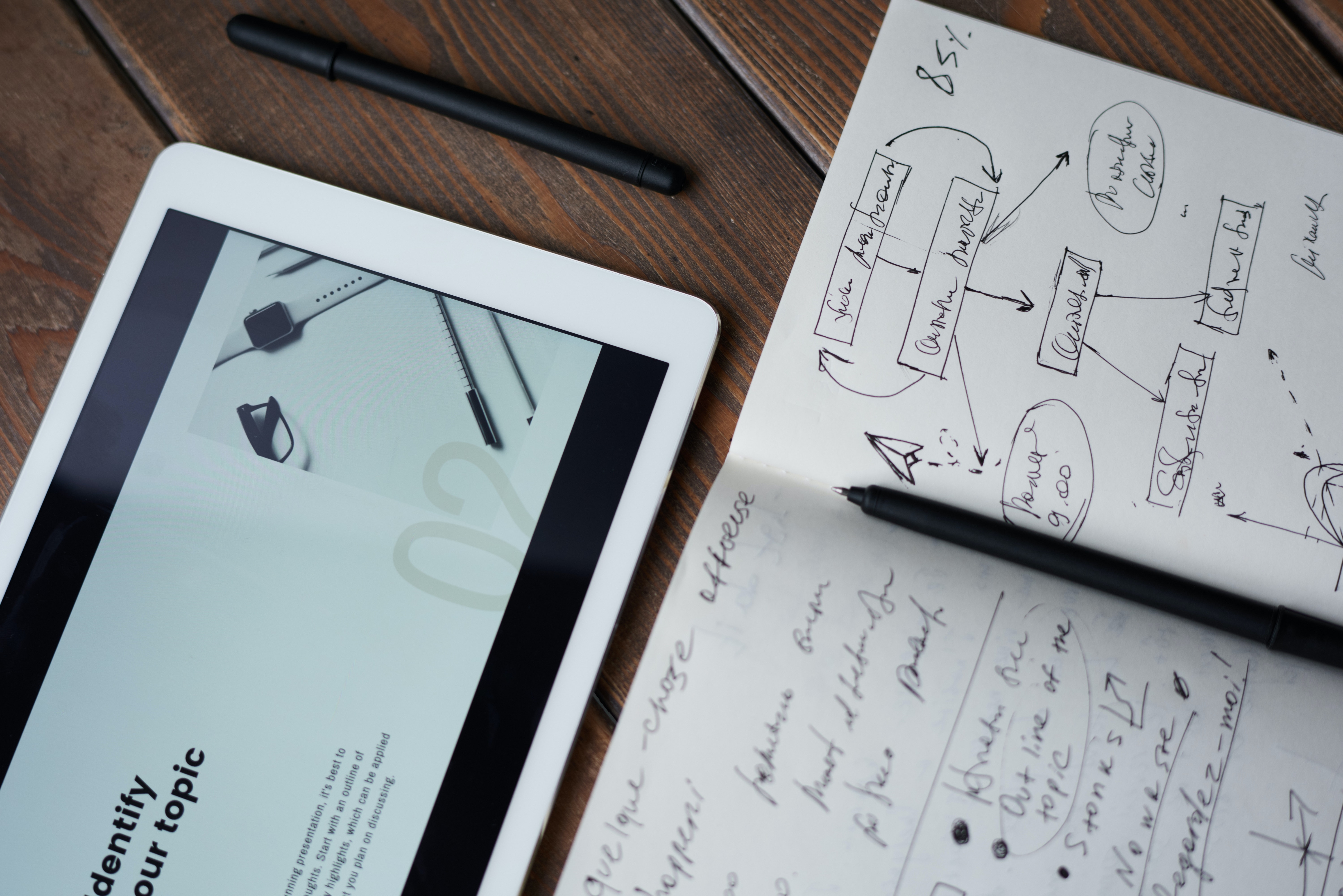 Backed By Research and Case Studies in Online Learning
Online learning has been around for awhile now. It may look different with full remote, hybrid/concurrent, or what you are doing right now. However, we can focus on real case studies and research to inform our practice.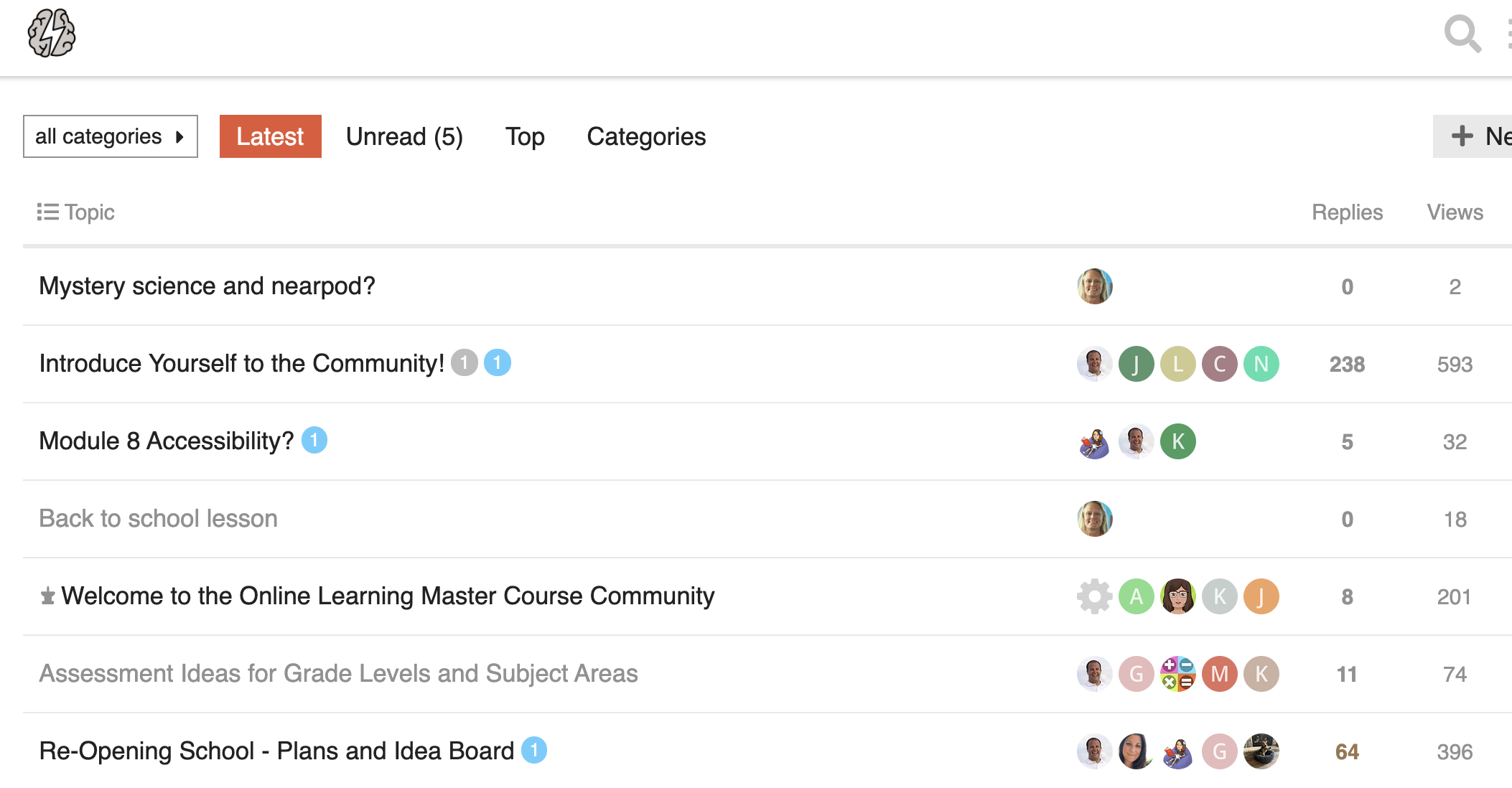 Our online community is filled with over 2000 educators, teachers, coaches, and administrators sharing what's working in remote, hybrid/concurrent, and blended learning. The questions, conversations, and insight have made this course a real-time feedback spot of participants.
Here Is What People Are Saying About The Course...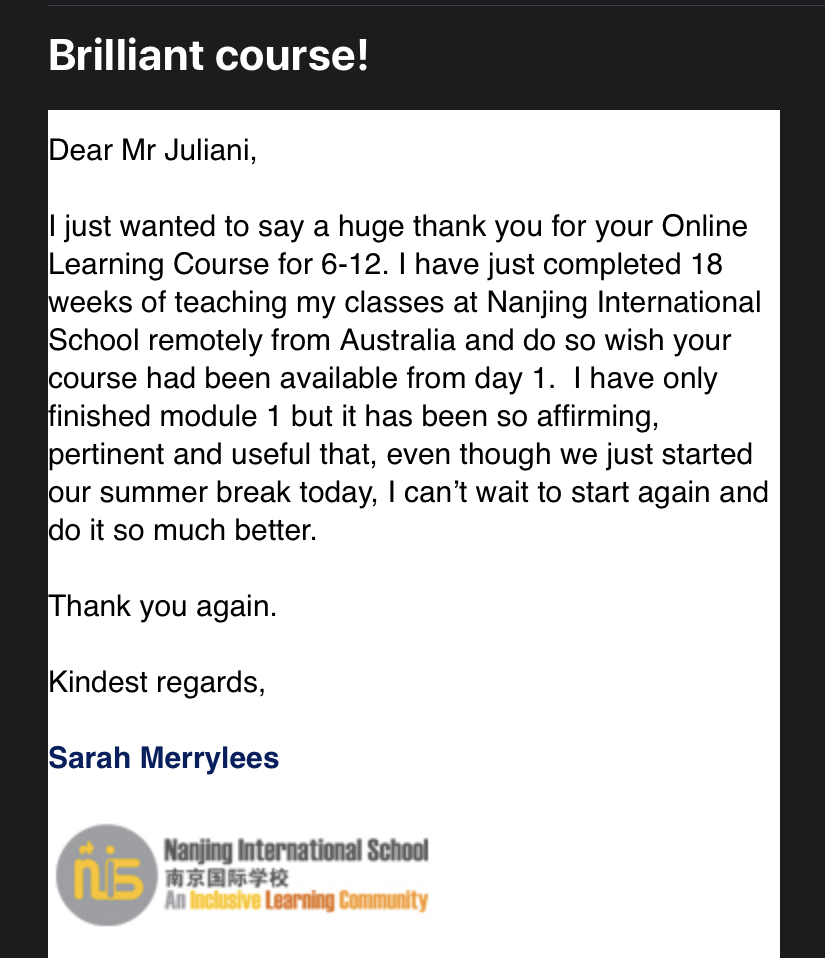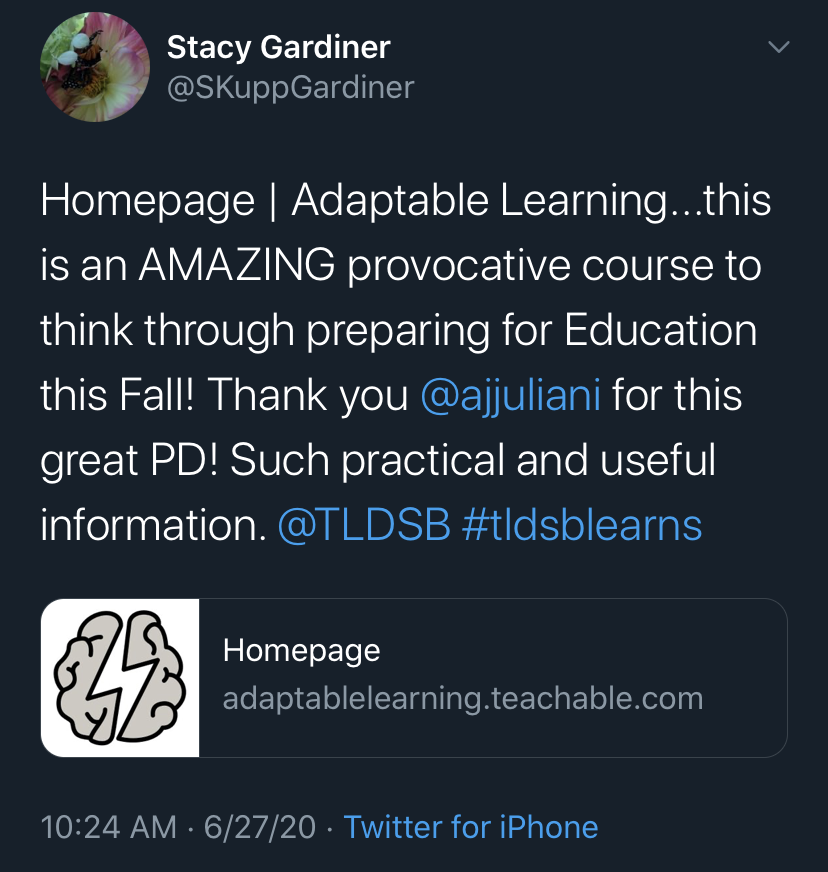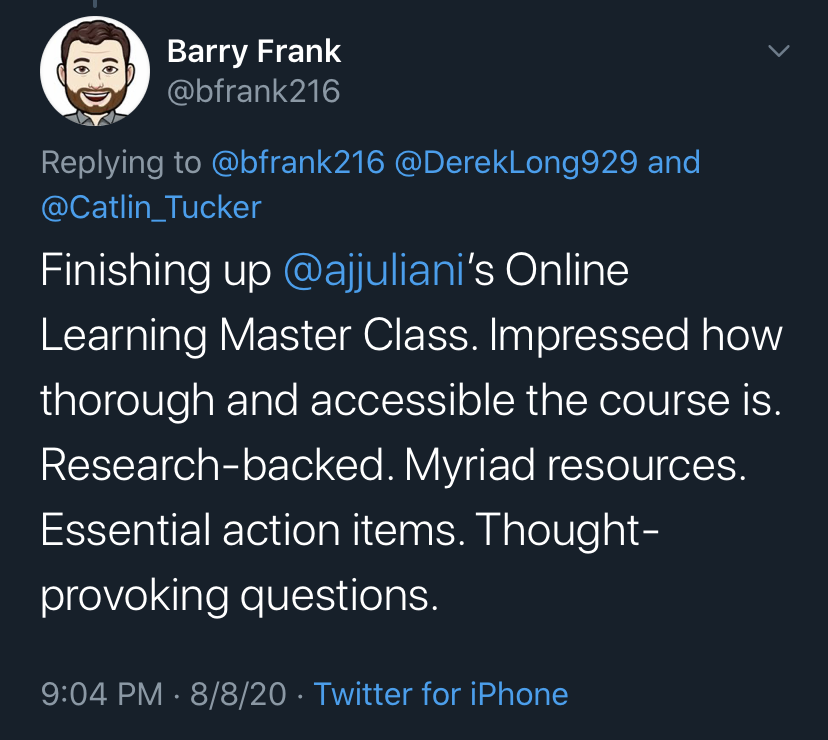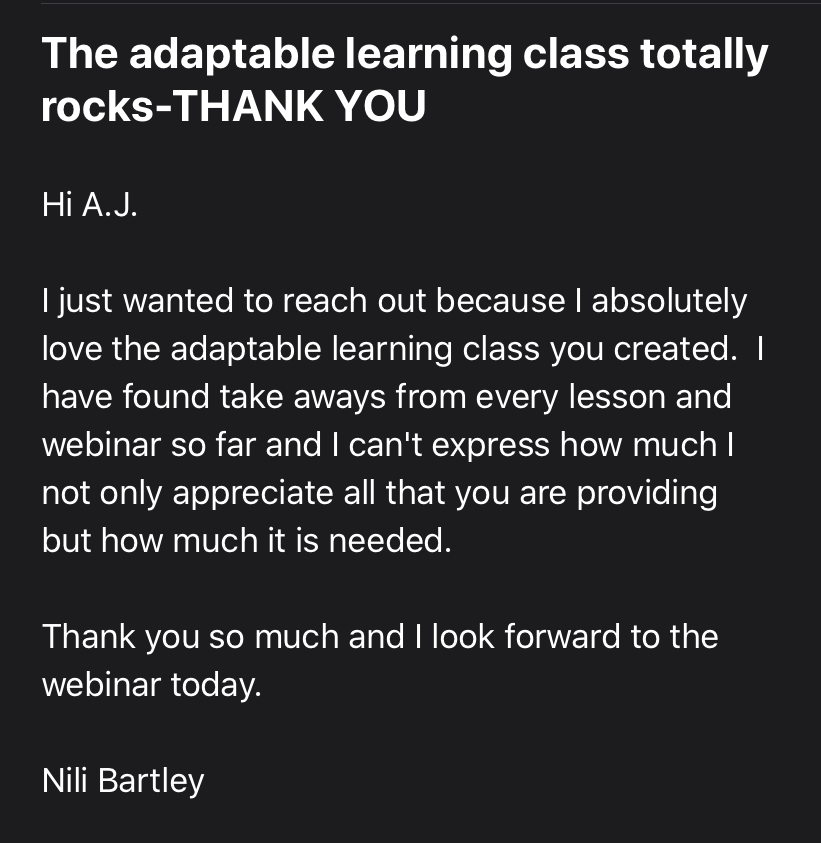 Real Takeaways In Each Lesson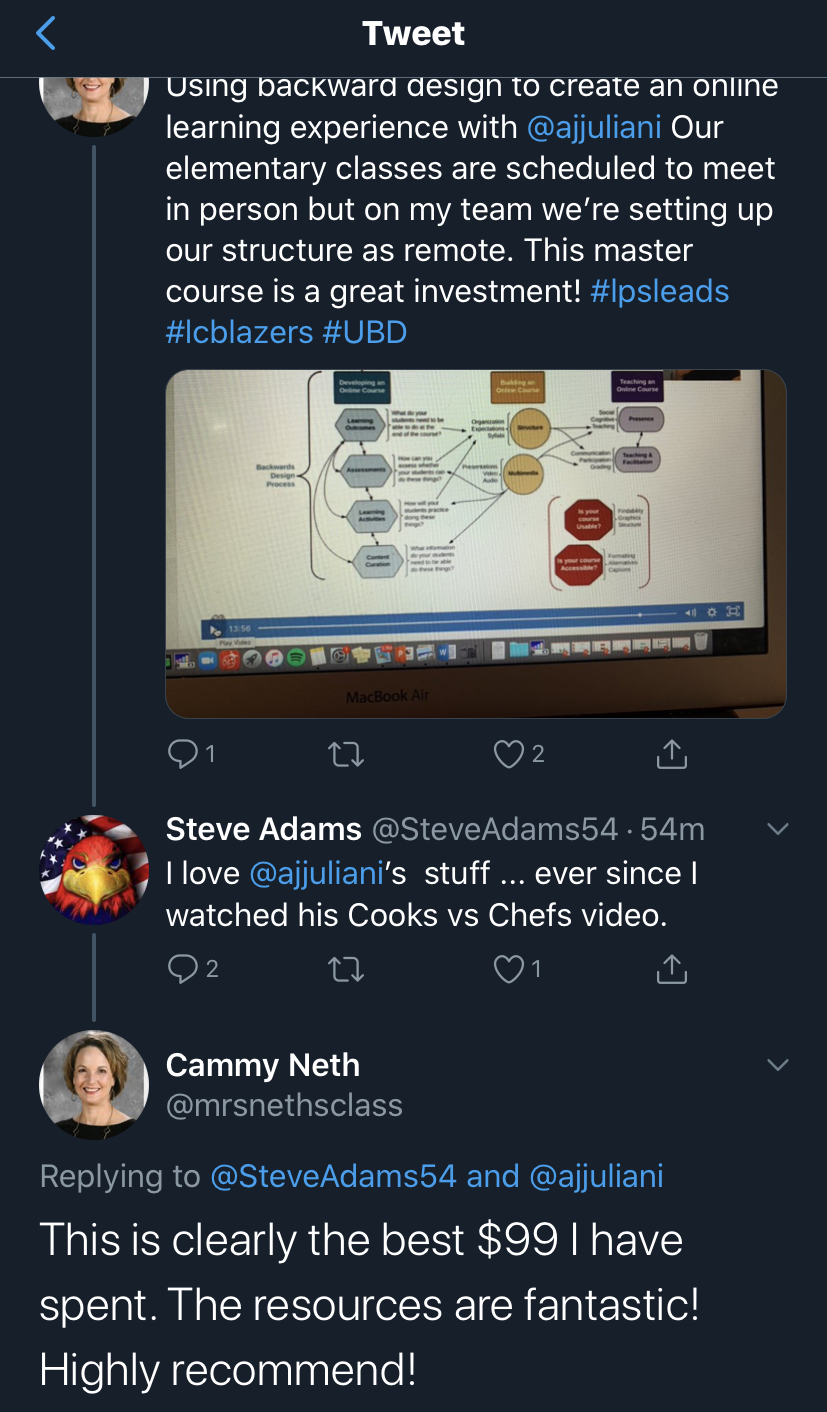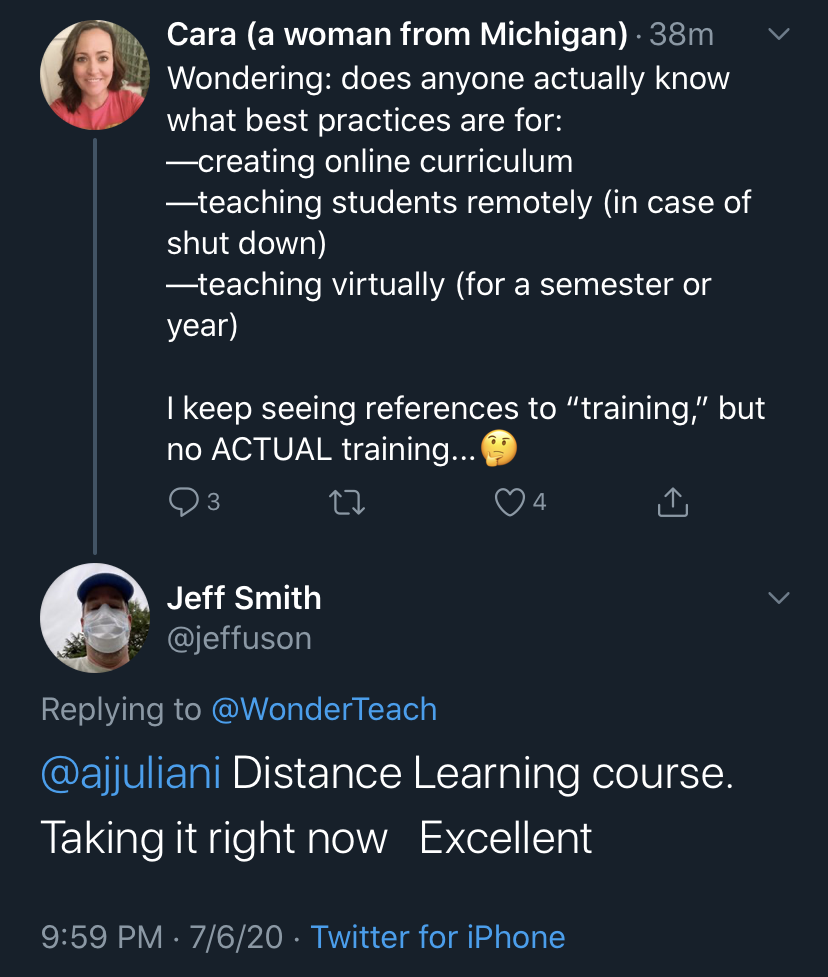 Self-Paced Structure with On Demand Modules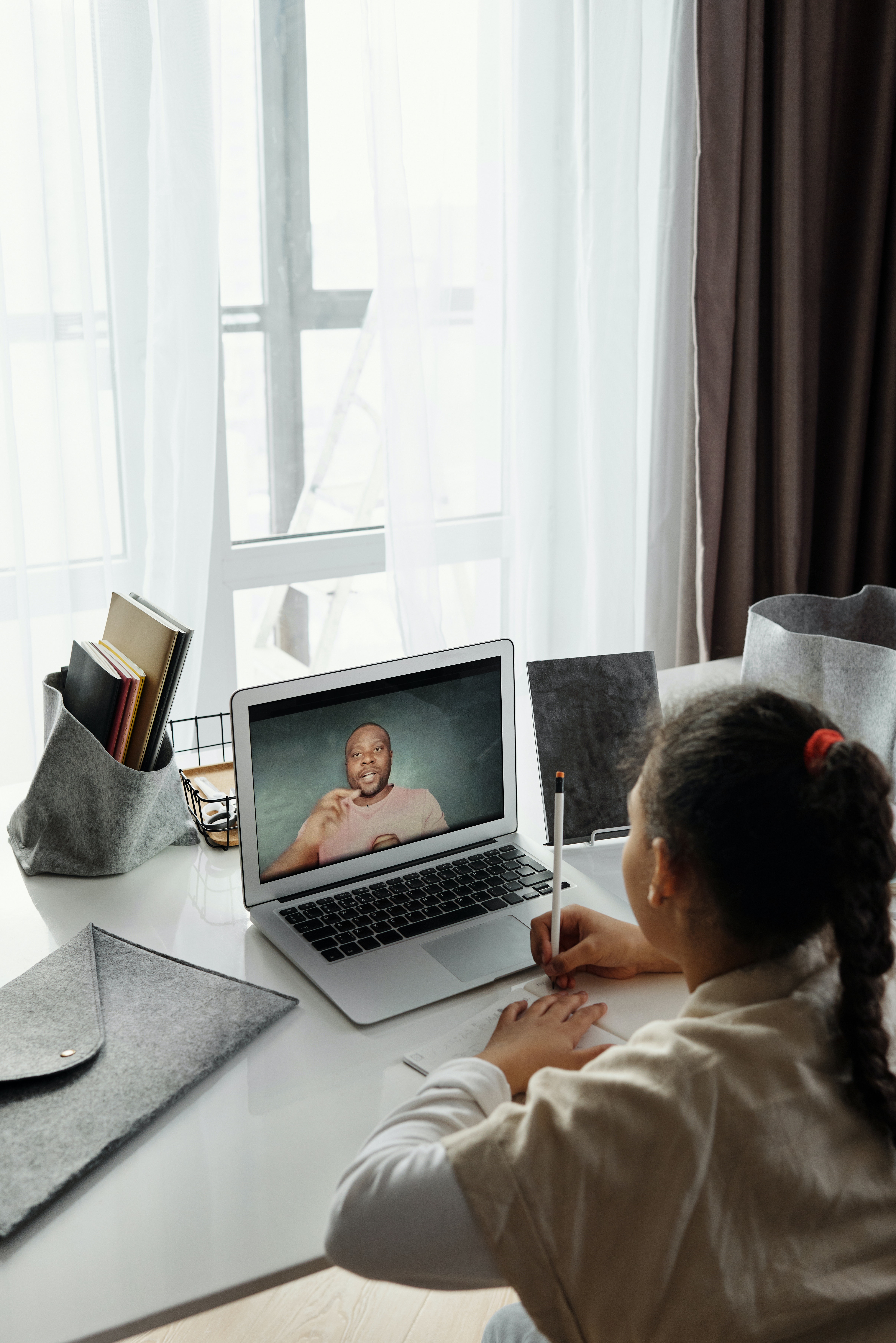 Each Course Module Is Self-Paced and Ready to Access Over and Over Again
Modeling asynchronous and self-paced online learning, the course follows a schedule and you have access to the content/materials forever.
Module 1:
The Human and Social Need in Online Learning
Module 2:
Emergency Remote Learning vs Online Learning
Module 3:
Planning for Online Learning
Module 4:
Engaging Instruction in Online Learning
Module 5:
Conferencing and Feedback in Online Learning
Module 6:
Assessments in Online Learning
Module 7:
Your Roadmap to Online Learning
Dig further into the course outline and curriculum below (press the arrow to expand the full curriculum).
What's Inside: The Course Curriculum
Choose The Individual License or Fill Out Form Below for Discounted Group Pricing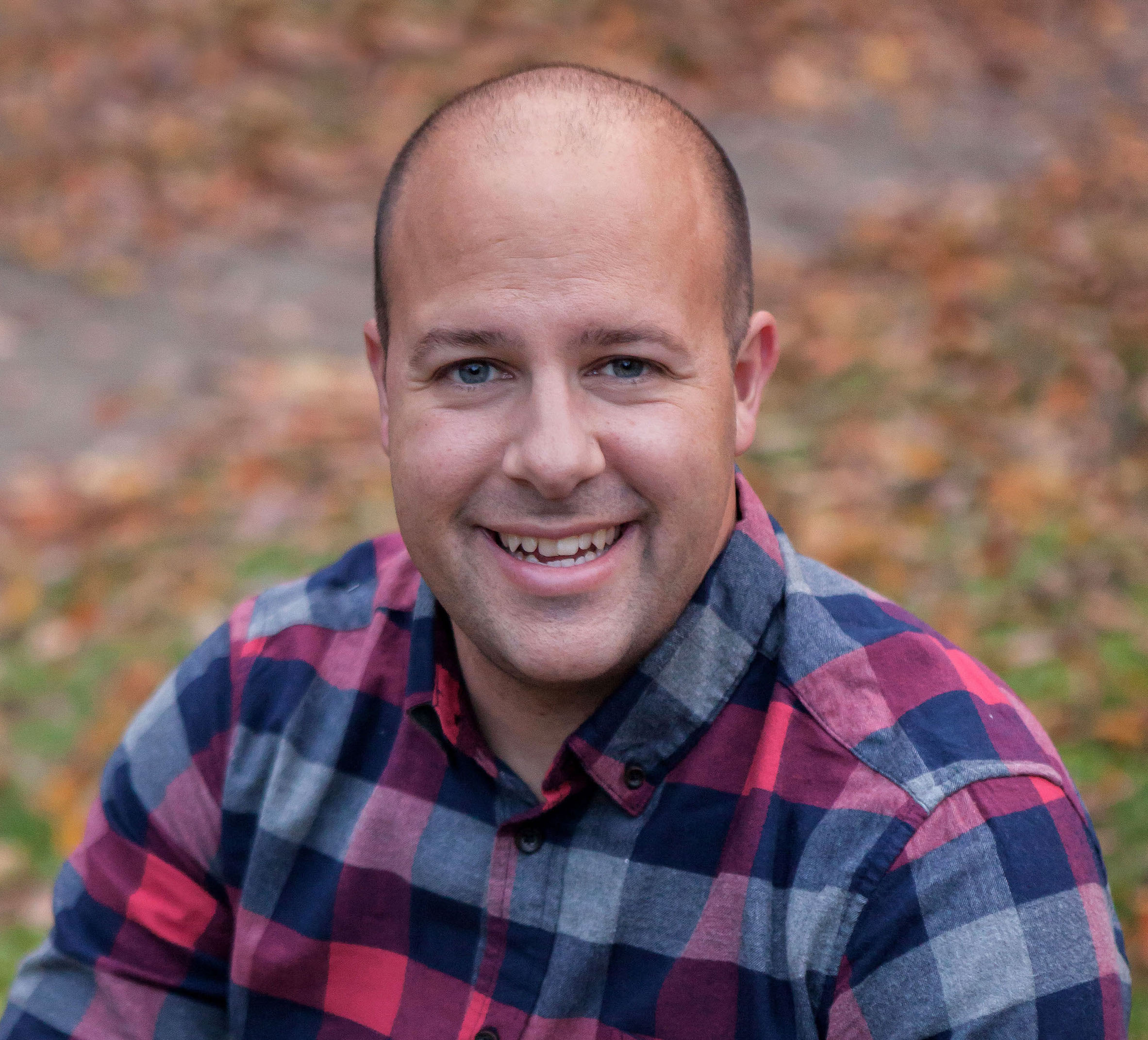 Hi, I'm A.J. Juliani
And this is my obligatory cheesy photo! I'm the father of five kids (four of them are in K-12 school), who all had to learn online in various formats this year. I've also worked as a teacher and school administrator in a number of roles across the K-12 spectrum.
I'm the author of 8 books about learning, and my degree in Global and International Education from Drexel, and roles as an online course creator and facilitator at UPenn GSE (PLN) and Director of Learning and Innovation, have led to planning, creating, and running multiple online programs and courses.
I'm still making mistakes as an instructor who has planned for, tweaked, iterated, and constantly improved online courses for almost a decade
This course will continue to be a work-in-progress, as we iterate and improve the content, material, and resources throughout the years!
FAQs
Is this for K-5 or 6-12?
This Master course includes access to both the K-5 and the 6-12 version of the course. It also includes the Webinar Series recordings with experts talking on topics you need information on right now, and the online community.
Who is the course for?
The course is for:
Pre-K-12 Teachers
Instructional Coaches
School Leaders
Entire Schools and Districts (we've had over 65 districts use the course for their entire staff)
When does the course start and finish?
The course starts when you enroll and never ends! It is a completely self-paced online course - you decide when you start and when you finish.
Do I have to complete and turn-in work during this course?
No, all of the work you'll be doing will be for your role as an educator and/or leader. This is not a college class, it is a class for you to get practical steps, resources, and guides on online learning. Think of this course as reference that you can come back to again and again.
How long will it take to complete the course?
While the course covers a large breadth of information in the curriculum, each video lesson is between 5-15 minutes long. Each lesson has options for going deeper with the resources and guides, you can look to spend between 2-4 hours for each module.
Is this part of a college-credit program?
No, right now we wanted to keep the cost accessible for as many schools and educators as possible. Connecting it to a college-credit program would have increased the cost 10x. However, if we receive enough interest, we may offer this possibility in the future.
Do I receive a certificate of completion for CEUs?
Yes, upon completion of the course (remember it is self-paced) you'll receive a Certificate with up to 30 CEUs available.
How long do I have access to the course?
How does lifetime access sound? After enrolling, you have unlimited access to this course for as long as you like - across any and all devices you own.
What if I am unhappy with the course?
We would never want you to be unhappy! If you are unsatisfied with your purchase, contact us in the first 30 days and we will give you a full refund.
Choose Individual License or Fill Out Form Below for Group/School/District Pricing